Our family is again excited to have received another postcard from Japan. Our friend
Clarissa
has graced us again with this gorgeous red cow card. As written at the back of the card, this AKABEKO (red cow) is the symbol of Aizuwakamatsu, Fukushima, Japan.
Clarissa wrote, "The people of Aizukamatsu has been good to us during the time we evacuated from Iwaki because during the 3-11 earthquake in Japan, there was no socks of food/water in any stores and so we have to evacuate all the way to aizu to get some food and shelter."
We thought of hanging this red cow in our car just to remind us to keep helping people in need.
Thank you, Clarissa, for the card. Thank you to all who wanted to exchange cards with us. We sent 3 this week, and we hope to continue exchanging postcards around the world.
We also would like to thank those who joined us in our PEP meme. I have to temporarily close it for now until I'm back in my hosting capacity. I have been busy with our
charity project
that's why I needed more time away from blogging. I will probably see you in other postcards memes.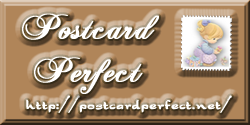 My first entry for Postcard Perfect.