I love butterflies because they speak volume about transformation, change, and new life. That's one reason why I had a butterfly garden before we moved to a smaller residence. In
my garden blog
I shared about my dilemma whether to save my plants that were attacked by caterpillars or to just let them and enjoy more butterflies later.
In our community learning center, we have a plant by the gate that is a caterpillar's favorite. Yesterday, before we closed our center for a long break, my homeschoolers and I carefully collected some samples (pupa and caterpillar) to take home for observation.
Here is a pupa attached under a leaf. Take note of its color.
This one is attached by our wall. See the difference in color from the first one? It is known that a pupa mimics the color of anything it is attached to. I love the gold line there!
We CAREFULLY placed them inside a box with lots of their favorite leaves.
We made sure they're comfy and safe.
This morning, this is how the white one looked like.
This is how they looked this evening. The butterfly is almost visible now.
One of those baby butterflies flying in our garden.



Inserted Update:

Oct 30, 2010


The following Morning




Early morning, Zoe woke me up to tell me that "we have given birth to a butterfly!"
This is the first born!
It started practicing to flutter its wings.
As I was doing this post, it was busy showing off its beauty.
It is soon to meet my garden.
Nov 2, 2010
Most of the pupae were already showing the butterfly anatomy inside. We knew they will soon hatched. So we waited but it happened when we were all asleep.


We woke up with already 2 butterflies hatched. The wings were already fully stretched so we believed they were hatched around midnight. In the morning, we released them in our garden.


Remember Mr. Caterpillar? Well, last night he was the star of the show. We found him hanging head down from the lid of the box. Note the white silk that attached him to the lid.


He became a pupa overnight! He shed off his covering! It's still tender in the picture, and we wonder how it mimics the color of the cardboard lid.



Here's Mr. Caterpillar's worn-out coat!


While observing the new pupa, 2 more butterflies were hatched.


Here are the the empty shells.


This is not the first time we did this observation. We've seen how all our pupae transformed into butterflies (monarch). But only this time we watched and recorded them closely.
Don't you just love to behold such beauty in your hand?
There is a dream of not just having a butterfly garden but a butterfly farm.
There is nothing in a caterpillar that tells you it's going to be a butterfly.
~Richard Buckminster Fuller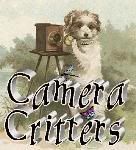 Many thanks to Misty Dawn for hosting
Camera Critters.